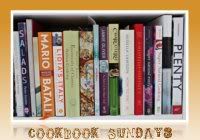 I have a little secret. I rarely pay full price for a cookbook. Oh, I ohh and ahh over the newest books at the B&N and thumb through them at the market, but buy a new one? I'm way too frugal
(nice word for friggin' cheap)
for that. No, I get my
many
,
many
,
many
books from what passes as "antique" stores here in Dahlonega... They're junk stores, and they sometimes have the most amazing finds in the cookbook department.
Take me to The Recipe
The Heritage of Southern Cooking
by Camille Glenn / 2007
The other week, I picked up
Camille Glenn's
"The Heritage of Southern Cooking"
for pocket change! A totally satisfying act in it's own right - but this is actually a very good cookbook - with some truly classic recipes and some great twists and unconventional takes on other deep south favorites.
To test out a new book, I'll usually look at 3 things: Chicken Recipes, ratio of protein to side dishes, and breads. Here in the South, if you're going to write about bread - you better be damned sure your recipes work... and work every time. Nothing flips a good southerner's wig worse than throwing out perfectly good White Lily Flour. Her biscuit recipe was the same as mine, There's a spoon bread, corn bread, a couple of fruit loaves... and then there was Old Fashioned Loaf Bread
Loaf Bread
- I hear ya, it's probably not the most exciting recipe you'd expect to come out of a cookbook. But - I grew up in the South, and when I was in Grade School, we took field trips to the Colonial Bakery and got those little mini loaves of Colonial Loaf fresh out of the oven. Packed neatly in their very own mini little bread bags. Loaf Bread Love is ingrained just as firmly and deeply as biscuits... or grits... or gravy.
So - the alterations:
1). She suggested either lard or shortening - I've used shortening
2). The ratios for flour / baking soda / salt are the exact same as for Self Rising Flour - I've used
White Lily Self Rising
3). I halved the recipe for my loaves and made smaller ones - but it it halves perfectly - then I have no doubt it will double
and
triple just as well.
The Recipe
Homemade
Loaf Bread
Makes 2 loves
Ingredients
1 Package Rapid Rise Yeast
1/4 Cup Lukewarm Water
6 Cups Self Rising Flour
1/4 Cup Sugar
1/2 Cup Shortening
2 Cups Buttermilk
Small Bowl
Large Mixing Bowl
Extra Shortening for Greasing
Measuring Cups
Stand Mixer with Dough Hook
Spatula
2 - 9.5 x 4.5 x 3" Loaf Pans
Cooling Rack
In the small bowl, dissolve the yeast in the water and allow to bloom
Sift 5 cups of the flour and place in the stand mixer with the shortening
mix on medium low until the flour begins to resemble meal
Add the yeast, buttermilk, sugar and blend well
Add in the remaining flour and mix into the dough
Turn the mixer to medium high and knead for 5 to 10 minutes - until the dough forms a smooth ball that will hold a hand print when pressed.
Grease the large bowl and turn the dough into the bowl
Turn the ball over to coat completely with the shortening (Do NOT use oil. Oil tends to soak into the dough too much, producing a heavy, dense loaf)
cover with plastic wrap and allow to double in size (about 1.5 hours)
Lightly flour a working surface, and turning the dough out, knead for another 2 minutes
Divide the dough in half
Roll out each half flat to press out any bubbles
Roll each piece of dough (jellyroll style) and tuck the ends under
Place in greased loaf pans, cover with plastic and allow to rise until doubled in size again - about 1.5 hours
Preheat the oven to 425
Bake on the center rack of the over at 425 for 15 minutes - lower the temperature to 375 and bake another 20 to 30 minutes (depending on your area). The loaves are done when nicely browned on top and sound hollow when thumped
Turn the loaves out onto a rack and allow to cool Completely before slicing or storing - Remember to turn the loaves over occasionally while cooling to keep the crusts crispy